Oof. It really do be like that sometimes. The country might just descend into a full-blown civil war (definitely a big yikes), but whether you wanna just wanna be vibin' on the battlefield or cowering in your basement, The Fed's music gang has some high-key fire beats. Here are our top four Spotify playlists that slap even in the most unprecedented of times.
1. The "You set up camp in the middle of Michigan's northern peninsula, and you realize that the nearest bubble tea store is in Milwaukee" playlist:
These are sad boi hours. Let's turn up the Billie Eilish.
"Come Out and Play" – Billie Eilish
"Circles" – Post Malone
"Come, Sweet Death" – Johann Sebastian Bach
"Last I Dreamt that Somebody Loved Me" – The Smiths
"Yesterday" – The Beatles
"Somewhere Only We Know" – Keane
"Clocks" – Coldplay
"Now I'm In It" – HAIM
"Despacito" – Luis Fonsi feat. Daddy Yankee
2. The '''Are we in Texas yet?' you ask your platoon and they respond, 'No we're still in Indiana'" playlist:
Okay, well that was embarrassing but you saw a big barn and some cows and stuff so how were you supposed to know? Right now you need a motivational playlist to get your ego back for the long journey ahead!!
"Pursuit of Happiness" – Kid Cudi feat. MGMT and Ratatat
"Mr. Brightside" – The Killers
"Eye of The Tiger" – Survivor
"Before He Cheats" – Carrie Underwood
"All of the Lights" – Kanye West
"The Less I Know the Better" – Tame Impala
"Don't Stop Me Now" – Queen
"Shia LaBeouf Live" – Rob Cantor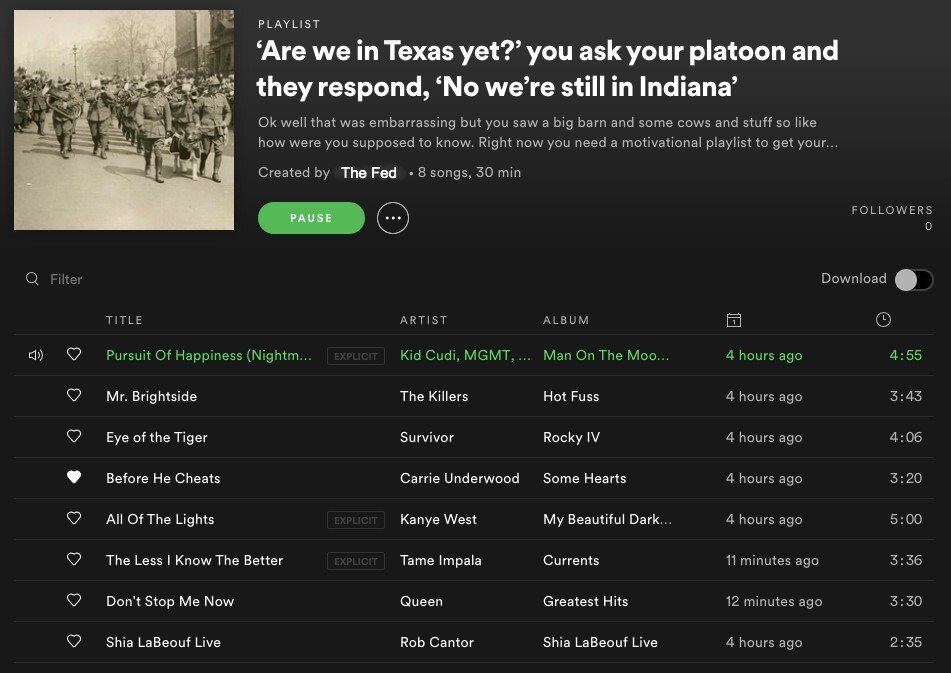 3. The "My avocado toast was literally shot out of my hand" playlist:
Owie! Right now you probs just need some chill vibes to relax while they start amputating but also you're really upset and we hear that so enjoy this.
"F**k You" – Lily Allen
"Girlfriend in a Coma" – The Smiths
White Noise
"Talk" – Khalid
"Africa" – Toto
"Say So" – Doja Cat
"WAP" – Nikki Minaj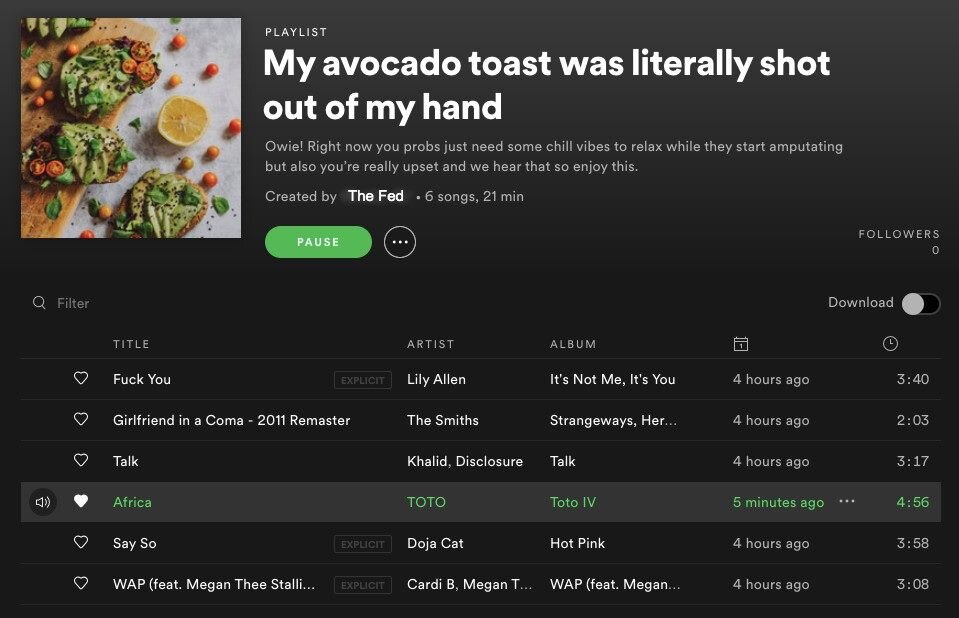 4. The "Gordon Ramsay just duetted My 5 Things to Cook during the Civil War TikTok" playlist:
Celebrate queen!!!
"Cut to the Feeling" – Carly Rae Jepson
"Electric Love" – MGMT
"Dynamite" – Taio Cruz
"DJ Got Us Fallin' in Love" – Usher
"Hips Don't Lie" – Shakira
"The Blue Danube Waltz" – Johann Strauss
"Adore You" – Harry Styles
"The Best Day Ever" – SpongeBob SquarePants